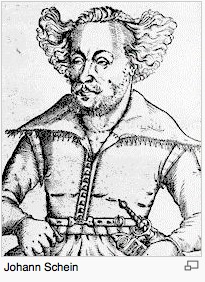 Our program (10 minutes and 23 seconds) features the modern premiere of the "Intrada" and "Trezza" by Johann Heinrich von Schmelzer (1623-1680) as well as the"Turkische Intrada" by William Brade (1516-1630), the "Intrada" from "Banchetto Musicali" by Johann Hermann Schein (1516-1630) and the In Nomine "CRYE" (cry) by Christopher Tye (1505-1573).
Johann Heinrich von Schmelzer was the Kapellmeister to Leopold I and a renowned violinist across Europe. Schmelzer is often regarded as the first composer to integrate the tunes of the Viennese street musicians into sophisticated instrumental court music. His "Intrada" and "Trezza" performed here were recently found among a set of Austrian pieces deposited at the Uppsala University in Sweden.
This vast collection contains over 2,000 musical works in manuscript from the seventeenth and early eighteenth centuries and was donated to the Uppsala University Library in 1732 by Anders von Duben. This broadcast is the modern clomid premiere of this work.