Play September 2008 Podcast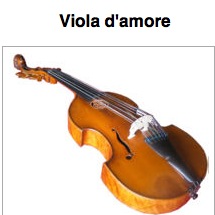 Our program "The Virtuous viola d'amore" (12 minutes and 19 seconds) features the Overture in 8 movements for two violas d'amore and harpsichord by Johann Caspar Ganspeck (1637-1741). The viola d'amore shares many features of the viol family – a flat back and intricately carved head at the top of the peg box but, unlike the viols, it is unfretted and played much like a violin, being held horizontally under the chin. It has seven bowed strings and seven resonator strings (which are not played directly but vibrate in sympathy with the notes played). Thanks largely to this sympathetic strings, the viola d'amore ahas a particulary seet and warm sound. Mozart's father said the instrument sounded "especially charming in the stillness of the evening".
This performance by Ars Antigua, directed by Jerry Fuller features violists d'amore William Bauer and Rachel Gries.
The Overture for 2 violas d'amore and harpsichord by Johann Caspar Ganspeck cipro dosage in 8 movements:
Overture
Presto
Passepied
Bouree
Menuet
Gavott
Hornpipe
Chaconne