In this episode (12 minutes and 57 seconds) we'll hear the winners of the 2009 Ars Antigua-Midwest Young Artists competition, generously sponsored by Walgreens.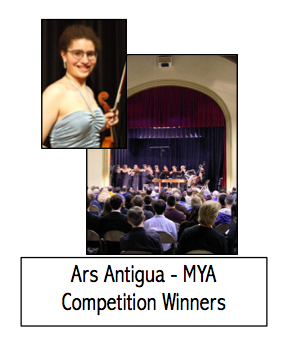 Amy Pikler, a sophomore at New Trier High School, began playing music at the age of 5 and now studies violin and viola with Desiree Ruhstrat and recorder with Patrick O'Malley at the Music Institute of Chicago. In addition to winning competitions on both the regional and national level, she has appeared as soloist with the Chicago Chamber Orchestra, the North Suburban Symphony, the Symphony of Oak Park and River Forest, the Knox-Galesburg Symphony, and several more across the U.S.
Evan Fojtik is 15 and a sophomore at Lake Zurich High School. He began his music studies at age 10, and currently studies flute with Diane Horban and plays in the Midwest Young Artists Symphony Orchestra and chamber music program. Honors include first chair in the District 7 IMEA honors band the past three years, first place in the Junior Division of the Chicago Flute Club student competition, and placement in the senior division. Evan has been featured in the Pilgrim Chamber Players Stars of Tomorrow recital, and also in recital at Ravinia. Like Amy, Evan has received high honors at the Walgreens Concerto Competition on numerous occasions.
For this performance, Evan Fojik and Amy Pickler are joined by David Schrader at the harpsichord for Telemann's Concerto in e minor for Flute and Recorder.