About Jerry Fuller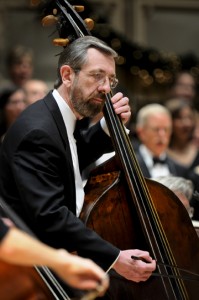 Jerry Fuller began studying the double bass at age 16 and was invited to join the Lyric Opera of Chicago orchestra three years later. Within two years he was promoted to first desk of the double bass section in addition to performing with the Santa Fe Opera. Mr Fuller has also served as solo double bass of The Musikkollegium Winterthur Switzerland. While in Europe, Mr. Fuller became interested in historically-informed performance practice and has achieved international recognition for his work with period instruments. A Chicago Artists Abroad grant recipient, Mr.
Fuller's performances in London, Rome, Geneva and Edinburgh have been broadcast worldwide. In addition, Mr. Fuller has performed at the Ravinia and the Aspen Music Festivals and both the Boston and Berkeley Early Music Festivals.
His recordings on the Musical Arts Society, Cedille and Centaur labels have been hailed by both critics and colleagues. Mr. Fuller also writes on period instruments and performance practice for The Strad, Double Bassist, and Bass World magazines, and has served on the editorial board of the Online Journal of Bass Research.
Mr. Fuller served as an officer of the Board of Directors of the International Society of Bassists 1990-1996 and has appeared as a guest artist with the American Bach Soloists of San Francisco, the Handel and Haydn Society of Boston and the Newberry Consort of Chicago.
He is principal double bassist of the Haymarket Opera, Callipygian Players and The Bach Institute at Valparaiso University. In addition he is Director of both ArsAntiguaPresents.com and the Midwest Young Artists Early Music Program for which he was awarded the Early Music America Outreach Award for Excellence in Early Music Education.  Jerry recently received a Special Recognition Award for Historically Informed Performance from the International Society of Bassists. This award is given once every two years to a bassist who has demonstrated and achieved the highest level of excellence in historically informed performance.
For more information, call 312.415.2391
Ars Antigua is an affiliate of Early Music America and member of Early Music Chicago.