Thomas Tallis was truly a Tudor composer. With a life that spanned most of the sixteenth century, Tallis served the royal court under Henry VIII, Mary I, and Elizabeth I. Under Elizabeth, Tallis, along with William Byrd, was granted a twenty-one year monopoly on polyphonic music, as well as a patent to publish and print their music. While the Tudors ushered in the Protestant Reformation, many scholars believe that Tallis remained a devout Catholic. Written during the Protestant Queen Elizabeth's reign, "The Lamentations of Jeremiah" are often cited as an example of a true expression of the composer's faith.
According to Judeo-Christian beliefs, following the death of King Josiah [BC 609], Jerusalem began worshipping false idols. Jeremiah, noticing this broken covenant with God, set about warning the citizens that if they continued to denounce God, they would be punished by famine. Jerusalem did not heed Jeremiah's prophecies—to the contrary: he was mocked, beaten, and jailed. Through it all, Jeremiah remained faithful, praying for Jerusalem, and became known as "the weeping prophet" as he wept for Israel.
Thomas Tallis's "The Lamentations of Jeremiah," as performed by The Marion Consort.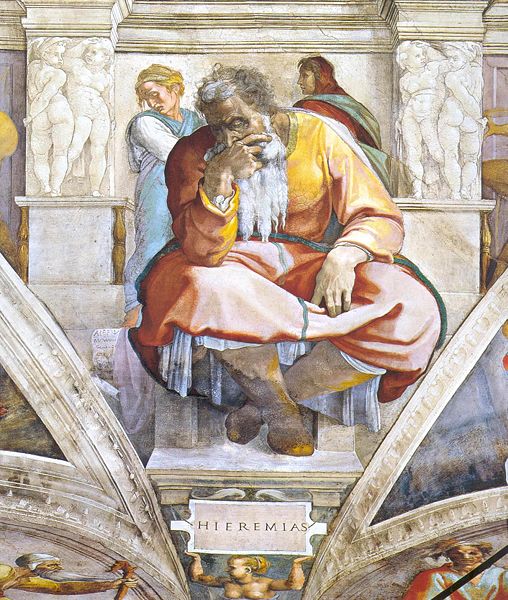 Ars Antigua Presents promotes the work of early music students at the high school and college levels. If you know of an ensemble that represents this next generation of performers, let us know and they may be featured on our podcast.
Special note to our audience: *Starting in December 2012, Ars Antigua Presents will be moving to a quarterly, rather than a monthly podcast. We hope you will continue to enjoy our March, June, September, and December episodes.*
[19:51]
Podcast produced by Joshua Sauvageau, with special thanks to Amy Bearden, director of the Marion Consort, for her assistance with this month's episode.

Podcast: Play in new window | Download