Today we're featuring two beautiful soprano arias by George Frederic Handel, whose vocal music made him the toast of London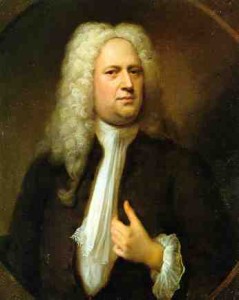 in the first half of the eighteenth century.  We'll hear "Lascia ch'io pianga" from the 1711 opera Rinaldo and "Tornami a vagheggiar" from Alcina, written a quarter decade later.
Both are examples of the ternary "da capo aria" form, in which the first "A" section returns near the end, sometimes with a great deal of embellishment and ornamentation improvised by the singer.  Vocalists and divas of Handel's time loved the opportunity to put their prowess on full display, and audiences delighted in filling opera houses like the Queen's Theater and the Covent Garden to take in the spectacle.
This performance is presented by Ars Antigua under the direction of Jerry Fuller with Kathryn Mueller, soprano.
[10:58]
Podcast: Play in new window | Download