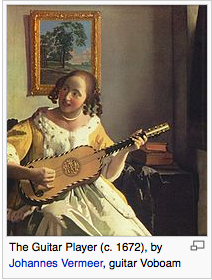 This month's program (10 minutes) features Jeff Noonan and two plucked instruments common in the 17th century, the theorbo and the Baroque guitar. The theorbo is a long-necked member of the lute family that features a set of bass strings that extend all the way up to a second pegbox. Not only do these strings extend the range of the theorbo, but they also resonate with the upper strings, giving the instrument a harplike quality to its sound. Our first selection is Girolamo Kapsberger's Toccata Arpeggiata for theorbo.
The episode continues with a set of variations on a ground, "Il Kapsberger." Kapsberger was a virtuoso performer on the lute, theorbo and chitarrone, and played a seminal role in their development into solo instruments.
This month's episode concludes with a little bit of Spanish music from around the turn of the 17th century. Gaspar Sanz, the dominant figure in Spanish Baroque music, was a composer whose effect on modern composers is perhaps most evident in this Pavan and Canarios; Joaquin Rodrigo used part of it as the central theme in his famous Fantasia para un Gentilhombre.